Welcome to Grand Pause Farm!
---
RE-OPENING ON OCTOBER 14, 2017!
STORE HOURS
Wednesday 8:30am – 2:30pm CST
Thursday 8:30am – 2:30pm CST
Friday 8:30am – 2:30pm CST
Saturday 8:30am – 4:30pm CST
---
The forty acres of land on which the Boyer's built their home was originally purchased in 1889 by Connie's great grandparents, Willard and Mary Francis Baughman. The Boyers purchased the land from Connie's cousin several years ago. It has been in the family for nearly one hundred fourteen years. The silo is the only remaining structure from the great grandparent's years. It was built in the 1920's and the name "Grand Pause Farm" was painted on the silo about 1935.
The property is located on Range Road in Starke County. It is half way between Toto and State Road 10. Since the 1950's Toto has been known as a discount shopping area. It began with Weinberg's Store, which offered many items, including furniture, kitchen cabinets, hardware and general household goods. They also owned a carpet store across the road. The Weinberg Store is now closed but has been replaced with other stores, including Granny's Fruit Market, Toto's Treasures, Richard's of Toto and several smaller stores. At State Road 10 and Range Road (1.5 miles south) is Bailey's Discount Store. Adjacent to our property is Joey's Wallpaper Store and east of Toto on Toto Road is Fletcher's Carpet Store. They are in the middle of the largest retail shopping area of Starke County. Seventy-five percent of the business of Richard's of Toto and Bailey's Discount Store comes from outside of Starke County.
Sweet Shoppe
Muffins, fudge, brittle, Sherman's ice cream, jams, jellies, Yoder's popcorn, Door Co. coffees teas and chai!
Gift Shop
Handcrafted items by ``Peg``, Warm Glow candles, Vicki Jean's Creations, primitive Christmas décor... and much more!
Coming in November!
The Barn at Grand Pause Farm is available for overnight guests! Checkout our listing and make reservations at AirBnB.com!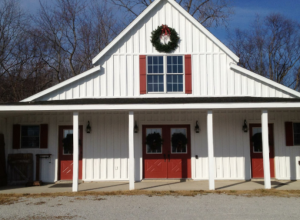 Gift certificates available!
---